Approaches made by the Legal Database Sales Business Division
The Legal Information Database that Is Widely Used by Universities, the Legal Community and Company Legal Divisions
It was back in 1972 when TKC announced its "conceptual design of a data bank that focuses on judicial precedents on taxation and others", so as to be more comprehensive and efficient in helping tax consulting firms provide legal advice and guidance in the course of their tax consultation with clients. Later in its history, TKC's legal information database containing information on judicial precedents in all fields of law came to be widely recognized as having great social value. It is now widely used not only by tax consulting firms but also legal and academic communities, companies and more.
TKC's legal information database LEX/DB Internet maintains an archive of judicial precedents and other information covering all legal fields from precedents set in the former Supreme Court dating back to 1875 to those most recently published, boasting to be the largest legal database in Japan containing more than 286,000 judicial precedents as of December 31, 2017. It is now used by 17,800 customers (47,000 users) including TKC member firms, universities, law schools, government offices, law offices, patent offices, company legal divisions and more.
In conjunction with the opening of law schools in 2004, TKC developed, jointly with Waseda University, the Law School Educational and Research Support System, which supports bidirectional/multidirectional lectures and students' self-learning. Along with this development, TKC started offering the TKC Law Library, a comprehensive legal database that enables a search for judicial precedents from anywhere at any time on a 24/7 basis. This is based on the LEX/DB Internet service and allows its users to do a cross-search for contents from prominent legal publishers in Japan. As of December 31, 2017, it was adopted by 56 schools out of the total of 58 law schools (96.5% share) and used by 16,000 faculty members and students.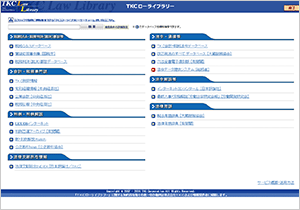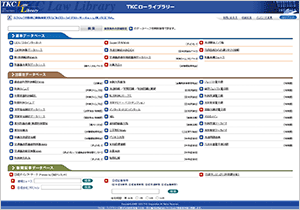 From the viewpoint of providing the total support for creating a learning and educational environment for fostering legal professionals by combining "law, education and IT", TKC offers a consistent series of services, from the Support System for Law School Graduates to the TKC Law Library (for legal apprentices) and the TKC Law Library, in addition to the systems for law schools. In June 2010, we also started selling the TKC Law Library (Overseas Edition) through our agents to international markets, in response to the increasing needs by government agencies, universities, and other organizations in Asian countries including South Korea and Taiwan for a database that allows searches for comprehensive legal information on judicial precedents, laws and regulations, and literature of Japan available on a 24/7 basis. It currently has more than 60 users, and the number has been increasing year by year. We also collaborate with overseas legal system development support projects promoted by the state, promote the use of the system by students abroad and cooperate for building learning support environments abroad.
The TKC Law Library, as the "Desktop 'Electronic Law Library'", will promote alliances with legal publishers for further development, enhance its functions including services for supporting business practices, and strive to become an even more easy-to-use legal information database for research and business practices.
TKC aims to win the de-facto standard position in the legal information database of Japan, through the provision of legal tech services that combine legal information, supporting legal experts and practitioners and services related to business practices.