TISC(TKC Internet Service Center)
The Cloud Service Site that Offers "Safety, Security and Convenience"
TKC Internet Service Center
TKC operates the TKC Internet Service Center (TISC) to provide cloud services to our customers including tax consulting firms and their clients, local governments and medium- and large-sized companies. TISC makes sure that the cloud services are used under a safe and secure ICT environment so that customers can maintain and continue their business operations in the event of a crisis.
The most important feature of TISC is that, in addition to its infrastructural capabilities such as buildings robust enough to resist disasters and the world's most advanced information security measures, it offers a complete suite of services fully prepared for any unexpected event, having TKC's full-time employees monitoring the operational status 24 hours a day, 365 days a year.
Leveraging the advantages of a fully-owned data center, TKC will strive to strengthen and expand the management of personal information by continuous enhancements of information security measures to protect the cloud service infrastructure and through employee education.
TKC provides our customers with our "safe, secure and convenient" cloud services by combining various application software and outsourcing services in order to support the business operations of customers.
Certifications
ISO27001: Certification for information security
TISC is certified under the international standard for information security management systems.
ISO27017: Certification for cloud security
TISC is certified under the international standard for information security controls for cloud services.
ISO27018: Certification for the protection of personal information in public cloud services
TISC has obtained third-party certification under the international standard for protection of personal information in public cloud services (the first in Japan).
No. 86 Audit: Provision of assurance reporting on controls at a service organization
TKC provides the Assurance Reports on Controls at a Service Organization (Report No. 86) in response to audits conducted under Auditing and Assurance Practice Committee Practical Guideline No 86 issued by the Japanese Institute of Certified Public Accountants for internal control relating to the following services offered by TISC:
ASP1000R (electronic tax filing system for corporations)
eConsoliTax (consolidated tax return system)
eCA-DRIVER (consolidated accounting system)
eTaxEffect (tax effect accounting system)
FX4 Cloud (integrated accounting information system)
FX5 (integrated accounting information system)
e-TAX Consumption Tax (electronic consumption tax filing system)
FAManager (fixed assets management system) (to be obtained April 2018)
LGWAN-ASP registered service provider
TISC passed the "LGWAN- ASP service connection/registration qualification test" by the Japan Agency for Local Authority Information Systems.
Facility services (passed on October 20, 2003)
Hosting services (passed on November 28, 2003)
Application & contents services (passed on November 28, 2003)
Authorized contractor of the Council for the Digitization of Local Taxes
Overview of TISC
| | |
| --- | --- |
| 1. Server room floor area | 3,412m2 (approximately 1,034-tsubo) |
| 2. Countermeasures against earthquakes | seismic isolation (can continue use even if hit by an intensity level 7 earthquake) |
| 3. Floor load | 816kg/m2 |
| 4. Power receiving system | 6.6kV high voltage double circuit power receiving system |
| 5. Redundant electrical system | redundant to power distribution board (redundancy inside racks is optional); no blackout during inspections |
| 6. Emergency back-up power generator | gas turbine generator |
| 7. Fuel stockpile for generator | stockpile of fuel to run 72 hours |
| 8. UPS | 10 minutes or greater |
| 9. Grounding system | IEC-compliant SPG (Single Point Grounding) equipotential bonding grounding system |
| 10. HVAC | air cooling package |
| 11. Temperature & humidity controls | 24ºC±2ºC, 50% ±10% |
| 12. Fire detection system | ultra-sensitive smoke detection sensors |
| 13. System operation & monitoring | 24-hour, 365-day manned monitoring |
| 14. Fire extinguisher system | NN100 (inert gas [nitrogen gas] extinguisher; no ozone-depleting potential nor global warming potential) |
| 15. Access control | Door access control by IC cards throughout the building (access to server room is controlled by biometric authentication) |
| 16. Surveillance cameras | installed on the building exterior circumference and inside the building |
| 17. Communication line | multi-carrier compatible |
| 18. Zinc whisker prevention | completely whisker-free server room |
| 19. Environmental consideration | Use of fresh air, hot aisle chamber system, etc. |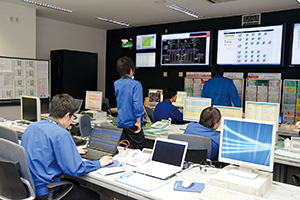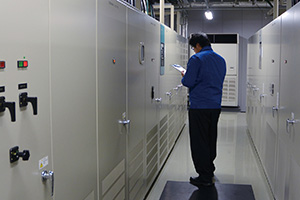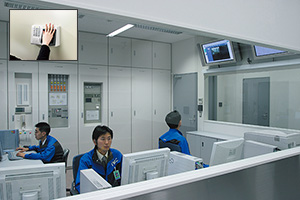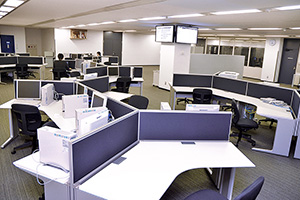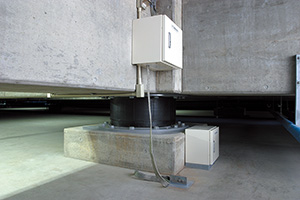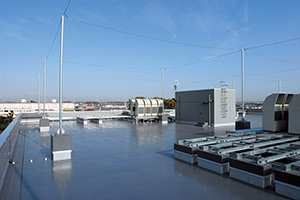 System Monitoring Room


Full-time employees offer manned monitoring around the clock.

Patrol monitoring


Employees patrol the entire building on a regular basis and check the building status as well as the operational status of each and every machine.

Security


All doors throughout the building require an IC card to be opened. In particular, access to the server room is controlled by a palm vein authentication system, a type of biometric authentication solution.
The conditions inside and outside the Center are monitored centrally at the disaster prevention center.

Cloud Infrastructure Operation Department


Dedicated technical staff members support the stable operation of the cloud services all the time as mediators between the development departments and operational service departments.

Countermeasures against earthquakes


24 seismic isolators made of multilayered hard rubber and steel plates support the TISC building. These isolators will absorb seismic energy up to intensity level 7 and prevent the servers in the building from falling down and breaking.

Lightning protection, environmental consideration


In addition to the external lightning protection required under JIS (building protection), the building is equipped with protection measures to support the internal lightning protection system defined by the International Electrotechnical Commission (IEC) so that the electronic devices installed inside the building will not be affected by lightning.